Raritan PowerTips Live!
A Webinar Series Full of Tips & Tricks to Get the Most Out of Your PDUs
---
Get the most out of your Intelligent PDU hardware by learning a few tips & tricks during our "PowerTips LIVE!" webinar series. The interactive webinar series, "PowerTips Live", was developed to support you or your team with live demonstrations on how to enable and utilize Intelligent PDU features to help you manage remotely. In addition, a live Q&A offers an opportunity to interact with Raritan product specialists and other data center peers around the nation.
A full list of upcoming dates are listed at the right of this page.
---
Raritan Top 5 Intelligent PDU Tips and Tricks to Get the Most Out of Your Intelligent PDU Hardware.
---
Tip #1: Ensure That You Are Receiving Alerts on Critical Events:
Raritan's PX3 PDUs monitor a variety of electrical and environmental parameters. You can receive alerts on anything that gets monitored – inlet data, outlet data, circuit breaker status, unbalanced loads, and power factor, to name a few. To configure and receive alerts successfully, you need to ensure the following actions have been completed:
1. Configure Alert Delivery Mechanism – how to set up and receive your alerts: SNMP and/or SMTP.
a. If you prefer your alerts to be sent to an SNMP manager tool, you need to enable: Device Settings > SNMP > Enable SNMP Notifications
It is important to note that this setting is different from the SNMP Agent setting. You won't be receiving SNMP alerts even if you have enabled SNMP v1/ v2c if you don't explicitly enable SNMP Notifications.
Example of SNMP Configuration Illustrated Below.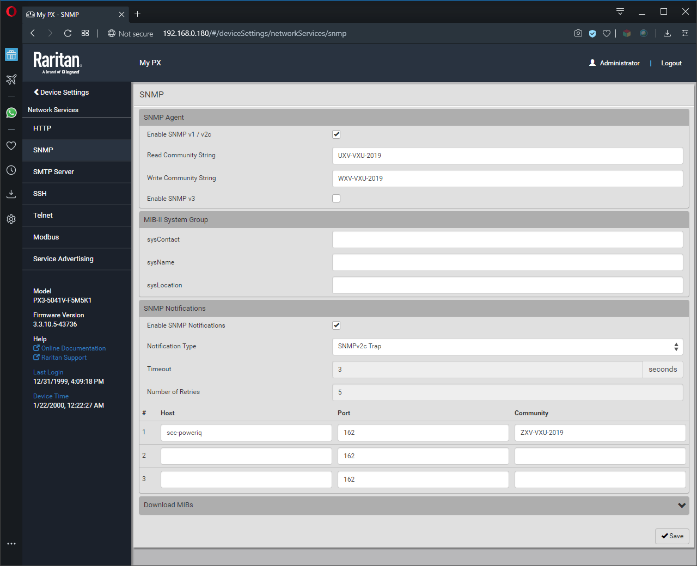 b. If you prefer your alerts delivered as emails, you need to enable: Device Settings > SMTP Server
The best practice is to create a separate service account for all PDUs to use as 'Sender Email Address' to clearly identify alerts from PDUs. Service accounts are recommended in most organizations for audit trail purposes as well.
Example of SMTP Server Configuration Illustrated Below.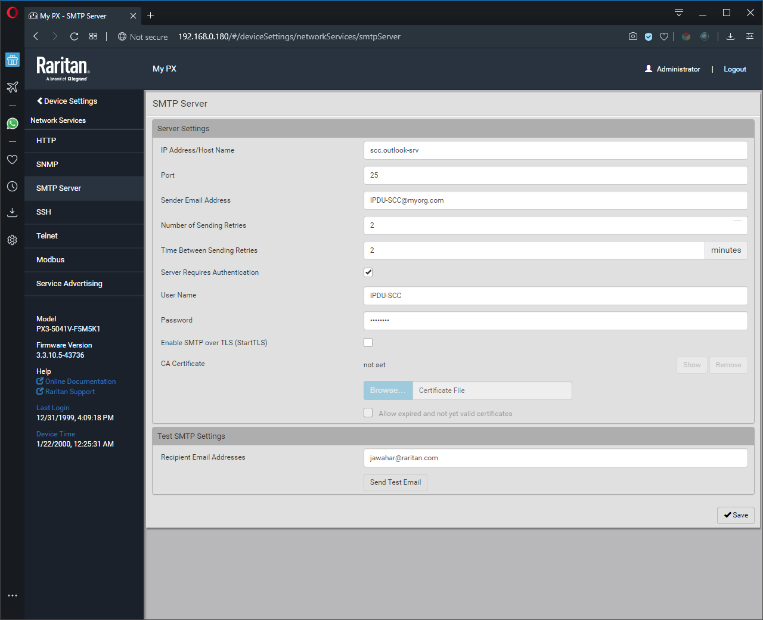 2. Configure Thresholds to trigger events. It is important to note that only a handful of thresholds are enabled by default, so if additional thresholds parameters are needed, you must ensure they are checked off. Depending on the PX3 series, you can set thresholds for inlet/ line, branch circuit, or outlet parameters like current, voltage, power, and energy. The following example explains how to set the thresholds for inlet current of a 16A PDU:
Inlet > Thresholds
Select RMS Current
Upper Warning – make sure it is enabled and enter 12A, for example, if you'd like to receive a warning alert when the inlet current exceeds 8A so you can take the necessary precautionary actions to avoid overloading the PDU.
Upper Critical - make sure it is enabled and enter 14A, for example, if you'd like to receive a second alert when the inlet current exceeds 14A so you can act immediately and proactively avert tripping the upstream breaker.
Example of Active Energy Chart Illustrated Below.
3.Setup Event Rules – This is the final step to tie an event to an alert. An event rule consists of two parts:
Event: This is the situation where the PX3 or a device connected to it meets a specific condition. For example, the inlet's voltage reaches the warning level.
Action: This is the response to the event. For example, the PX3 notifies the system administrator of the event via email.
Example of Event Rules Configuration Illustrated Below.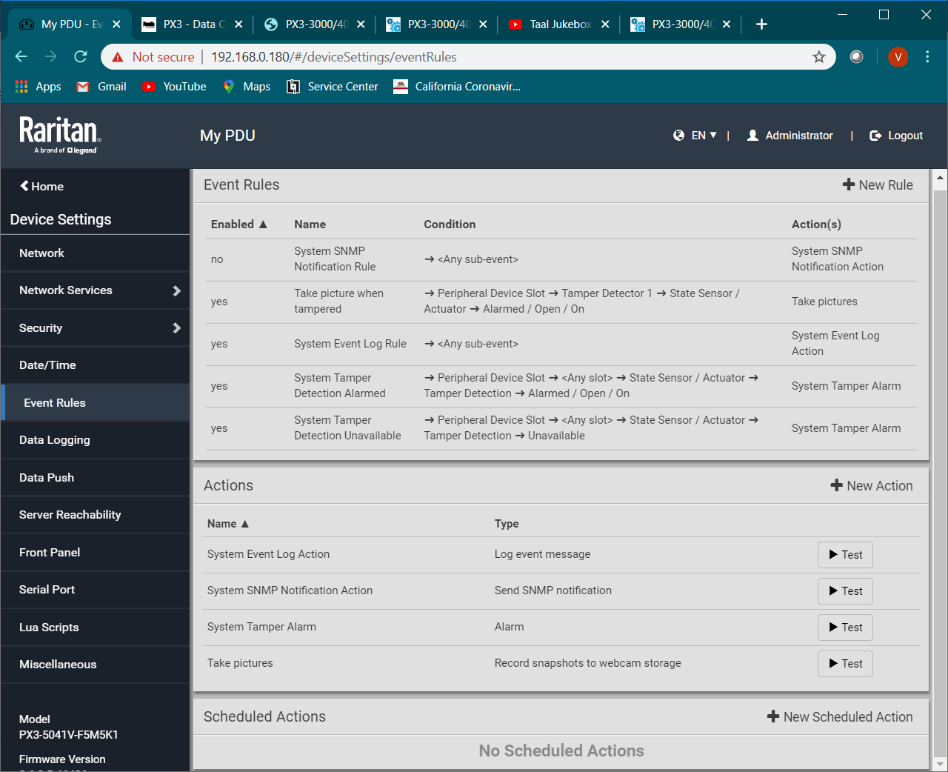 ---
Tip #2 Avoid Overloading Phases Within a PDU
While three-phase PDUs provide higher power capacities, they do require planning before server deployment. An unbalanced power draw on one or two of the three phases of the PDU creates stranded capacity which increases wasted electricity. Additionally, this scenario can lead to a cascading failure condition upstream. PX3 PDUs actively monitor balancing between phases and if configured correctly can alert you or your team when phases are unbalanced beyond a certain threshold. As a best practice it is important to have all three phases as balanced as possible to minimize unanticipated disruptions and wasted electricity.
Setup Power Factor (PF) Thresholds – to prevent downtime.
These thresholds are disabled by default and can be enabled from Inlet > Thresholds > Edit Thresholds. For a detailed explanation of how PX3 calculates the unbalanced current percentage, please visit https://help.raritan.com/px3-5000/v3.6.0/en/#35093.htm
Example of Inlet Data Points Illustrated Below.

---
Tip #3 How to Safely Trigger and Test the Alerting System
While onsite staff might be unavailable to observe any on-premise issues, it is even more important to be assured that the alerting system you've set up works as intended. You can safely test the alerting setup without causing a real event.
We suggest you try this on just one PDU at first before all PDUs installed so you don't get flooded with alerts.
Setting up the test - lower the default thresholds for Inlet Voltage.
You can temporarily set the Lower Warning threshold for Inlet Voltage to be slightly higher than the observed RMS Voltage to trigger an alert. The user interface provides adequate guidance on acceptable thresholds while you play with the numbers. Once you successfully receive the alert, you can revert the thresholds to the defaults or whatever is appropriate for the facility.
Example of Thresholds and Default Values Illustrated Below.

Inlet Voltage thresholds are enabled by default, with the following criteria and can be configured from Inlet > Thresholds > Edit Thresholds:
---
Tip #4 Create Additional Logins for All New Remote/Home Users
With more staff working from home, it is the best protocol to provide them with their own user accounts instead of sharing the default admin account. Having individual user accounts makes all actions traceable.
Create a new user under User Management Assign Admin or Operator Role. Both built-in roles allow the most common functions, including outlet switching and acknowledging alarms. You can always create a new role to specify the outlets a user or a group of users can control, under User Management > Roles.
Example of Individual Outlet Control Roles Illustrated Below.

---
Tip #5 Identify Failing Power Supplies
Power supply failures are a leading cause of server failure. Additionally, most power supplies don't fail overnight but degrade over time. One key indicator of a degrading power supply is a declining power factor (PF). The PX3-5000 PDU series meters at each outlet. This metering monitors the power factor of each server. Most modern power supplies are rated for 85% (0.85 PF) or higher efficiency. Thus, setting a lower warning threshold for every outlet in use for a PF of 0.75 and a lower critical threshold for a PF of 0.65 can provide you with a preemptive alert to an impending power supply failure. This alert can allow you valuable time to investigate and, if necessary, proactively turn the power supply off in a controlled scenario before an unexpected server outage occurs. This early alert can potentially help you to prevent a larger scale outage at the rack. Lastly, a degrading power supply over time consumes more power than average and can deprive power from other servers.
Setup Power Factor (PF) Thresholds to prevent downtime.
Power Factor thresholds are disabled by default. These can be enabled by navigating to Outlets > Threshold Bulk Setup Select Power Factor from drop-down > Edit Thresholds.
Example of Outlet History and Power Factor Charting Illustrated Below.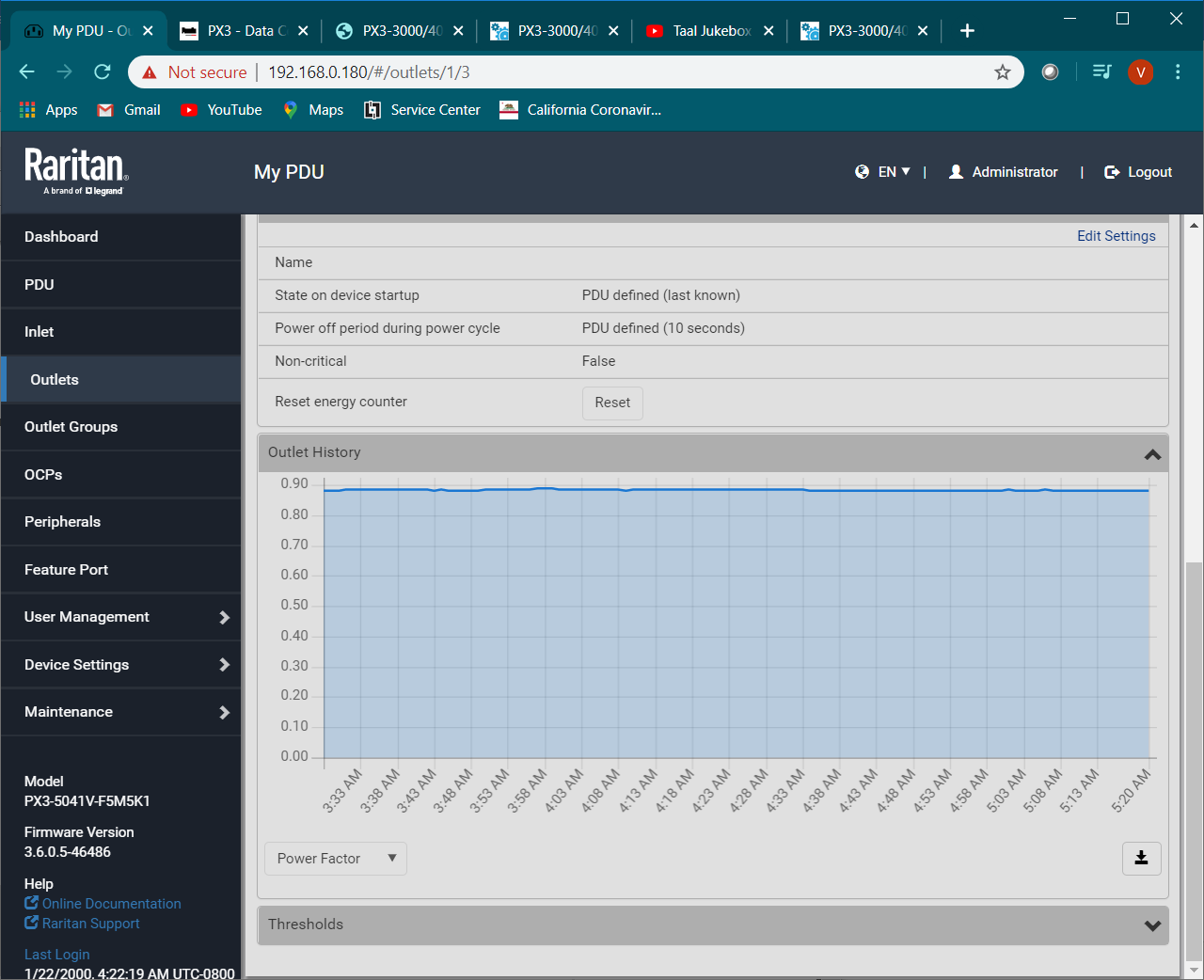 Example of Outlet Thresholds Illustrated Below.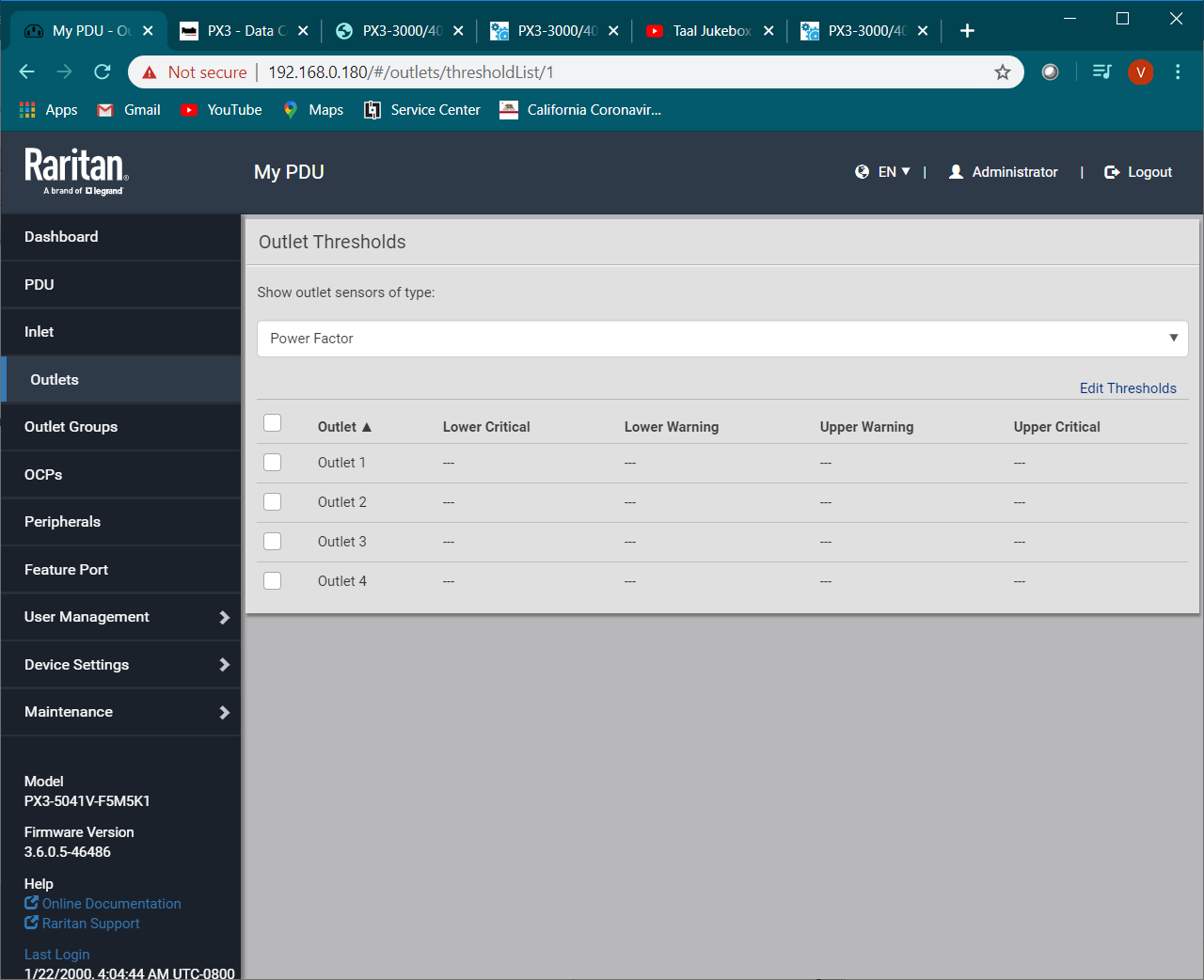 ---
We hope these tips and tricks help you to make the most of your current situation. If you would like to chat with us live or dive deeper with us on one of these topics– click here to register.