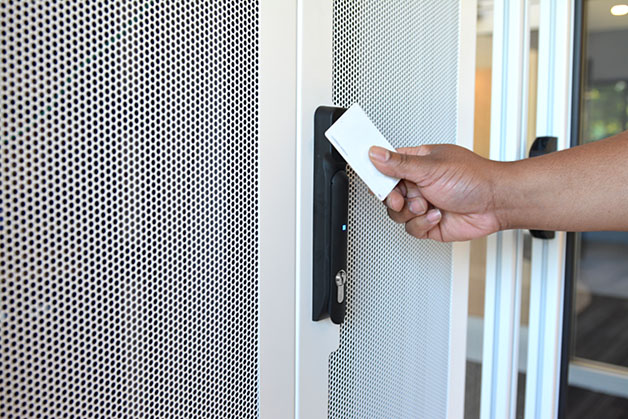 SOMERSET, NJ (July 24, 2018) — Raritan® — a brand of Legrand, and a leading provider of intelligent data center management and rack power distribution solutions — today introduced an intelligent electronic door access-and-control system that supports all types of data center cabinets and enclosures. The easy-to-install Raritan SmartLock system safeguards the server cabinet — and its residing data — by managing the physical access to the cabinet and keeping a digital log of all activity.
Data center managers can — from anywhere — use the SmartLock system with its integrated intelligent door sensors to lock and unlock cabinet doors, check the status of a cabinet door, authorize user access, define alert settings, and generate a digital audit trail report.
"Raritan's SmartLock solution is an economical way to shore up physical security inside the data center and address evolving security requirements for IT applications and regulatory compliance — such as HIPAA, SOX, PCI DSS 3.2, and SSAE 16," says Paul Mott, Global Technical Product Manager at Raritan. "We designed SmartLock to support all types of data center enclosures and situations."
An integrated solution for real-world data center management
SmartLock installs into any IT cabinet door, and cost-effectively leverages existing data center infrastructures — eliminating the cost to install a separate security system, wiring, and network cabling. The SmartLock accomplishes this by directly plugging into Raritan's intelligent rack power distribution units (iPDUs) or EMX Smart Rack Controllers residing in cabinets — and integrating with their IP network and management dashboards.
The data gathered by the SmartLock solution can be shared with existing data center systems — such as a Security, Building Management, or Data Center Infrastructure Management (DCIM) system — to create a single point of control for all security and compliance-related data. ID badge credentials used with proximity card systems for building access, for example, can be used to establish access privileges down to the cabinet level.
If there is unauthorized access to an equipment cabinet, audible alarms and electronic alerts will notify appropriate parties. An image of the unauthorized person also may be sent with the alert, when Raritan's USB camera is plugged into an iPDU.
Other Raritan rack security products include smart card readers for local authentication at the rack and Raritan's Intelligent Asset Management solution that tracks when a server is added or moved in a rack.
"To protect valuable data and ensure compliance with data protection regulations, server enclosures require the same level of physical security used to control access to the data center," says Mike Fahy, Business Development Manager- Electronic Access Solutions at Southco, Inc. "For data center managers, it's no longer enough to ensure that only authorized IT staff enters the data center. They now must track and monitor access to specific sensitive systems and must be able to provide an extensive audit trail regarding who touched those systems and when."
SmartLock Availability
The SmartLock system is available worldwide in pre-configured packages — ranging from the entry-level SmartLock Basic kit to the SmartLock Advanced kit. All SmartLock packages contain two electronic handles, one intelligent door access sensor, and all connecting cables.
Also available are pre-integrated SmartLock systems with Legrand cabinets and row enclosures. Legrand's new Simplified Edge integrated solution, for example, includes Raritan's SmartLock, and intelligent power distribution units and sensors.
To learn about SmartLock packages and accessories, such as intelligent webcams and advanced biometric security options, visit here.
About Raritan
Raritan, a brand of Legrand, is a global leader in intelligent rack PDUs, KVM switches, and other data center infrastructure monitoring and management solutions. Raritan's innovations improve the reliability, efficiency, and intelligence of data centers and server rooms around the globe — including those of the top Fortune 500 companies, such as Cisco, Dell, Google, HP, IBM, Intel, and Microsoft. To learn more, visit Raritan.com, LinkedIn or Twitter.
About Legrand and Legrand, North and Central America
Legrand is a global specialist in electrical and digital building infrastructures. Its comprehensive offering of solutions for use in commercial, industrial, and residential markets makes it a benchmark for customers worldwide. Innovation for a steady flow of new products with high added value is a prime vector for growth, including, in particular, connected devices stemming from Legrand's global Eliot (Electricity and IoT) program. Legrand reported sales of $5.6 billion in 2016. Legrand has a strong presence in North and Central America, with a portfolio of well-known market brands and product lines that includes AFCO Systems, C2G, Cablofil, Chief, Da-Lite, Electrorack, Finelite, Luxul, Middle Atlantic Products, Nuvo, OCL, On-Q, Ortronics, Pass & Seymour, Pinnacle, QMotion, Quiktron, Raritan, Sanus, Solarfective, Vaddio, Vantage, Wattstopper, and Wiremold. Legrand is listed on Euronext Paris and is a component stock of indexes including the CAC40, FTSE4Good, MSCI World, ASPI, Corporate Oekom Rating, and DJSI (ISIN code FR0010307819) www.legrand.us.
# # #
All product and company names herein may be trademarks of their registered owners.