M06d321f0fb5a408ea76adfa0b482e2495
High Power Density Deployments: Overcoming the Challenges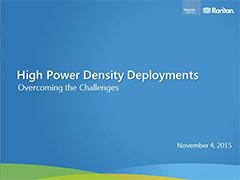 Analysts forecast 25Bn connected devices by 2020* — a 400% increase from today. Are you ready for the power demands that will bring?
Increasing rack power densities saves space and energy, and improves both OPEX and CAPEX. But it can also create unintended problems that could bring your data center to a screeching halt.
Raritan's VP of Products & Marketing Henry Hsu and DCD's CTO Stephen Worn, reveal the three key challenges in deploying a high density cabinet, and explain how to:
Reduce operating costs
Increase up-time
Improve mean time to repair
Become more energy-efficient
Manage existing capacity and plan for growth
* Denotes a required field.