Posted on August 26, 2010 by Allen Yang | Comments (3)
Raritan IT team recently decided to change our naming and association schemes in Power IQ. This change reflects the new level of power usage details IT wants to track, and how we plan to utilize such information to measure energy savings from the investment in replacing old servers with new, more energy efficient IT equipments.
In prior Power IQ naming scheme, we name the PX outlets by "phase-circuit-rack-L/R". From this naming scheme, one can easily tell that it was a PX-centric thinking. Using Power IQ, IT was able to easily know the total data center power consumption, as well as power usage by circuit and by rack. The power consumption by individual IT devices was interesting but not as important for power capacity planning, especially when the servers were largely 1U/3U rack-mount servers.
---
Posted on August 23, 2010 by Anthony Bonaventura | Comment (0)
IT administrators in the government space are concerned about three things when they arrive at their place of work: security, security and security.
With the recent, and not so recent, cyber attacks on military and civilian agency networks, the government is constantly looking to the OEM and system integrator communities for new solutions to insure the lock-down of federal information system networks and servers that carry and hold information critical to the security of our nation.
Couple this daily challenge with compliance directives issued in large part by executive orders and shrinking budgets, data center managers hands are full. Not to mention that these folks have some of the busiest days out of anyone in the federal IT space.
---
Posted on August 11, 2010 by Dorothy Ochs | Comment (0)
Come visit the Raritan booth at DatacenterDynamics in Washington, DC on August 31st to learn about our intelligent energy management solutions.  For more information and to register, visit http://www.datacenterdynamics.com/washington.
---
Posted on August 10, 2010 by James Cerwinski | Comment (0)
If colder is not better and we agree you can save energy by increasing the temperature — why are data center managers still over-cooling? The reason is that many data center managers don't have the information to safely increase the temperature. The following Gartner quote adds an important new element — the need to monitor for hot spots.
Gradually raise the temperature at the server inlet point to run up to 24 degrees Celsius (75 degrees Fahrenheit), but use sensors to monitor for hot spots - Gartner – 29 July 2009
ASHRAE recommends you measure and record temperature and humidity at the geometric center of the air intake of the top, middle and bottom racked equipment at 50 MM( 2in.) from the front of the equipment. For example, if there are 20 servers in a rack, measure the temperature at the center of the first, tenth or eleventh, and twentieth server as shown in the following picture.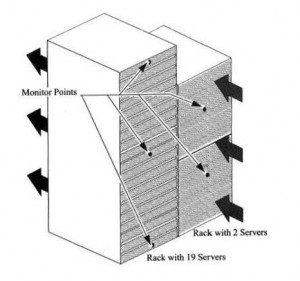 Source: ASHRAE Thermal Guidelines for Data Processing Environment
Are you monitoring your temperature and humidity according to ASHRAE's recommendation?
James Cerwinski
---
Posted on August 4, 2010 by Website Administrator | Comment (0)
Ok, it's July 20th, 1969 and America had finally realized JFK's dream and commitment that we would land a man on the moon and return him safely within the decade of the 60s. Everybody remembers Neil Armstrong's first few steps, and his famous first few words. (Although there is still some controversy as to the actual words he used, even when listening to the audio tape). Neil was pioneering the manned lunar exploration era. He became synonymous with the space program and his role became one of leadership and understanding.
Eighteen minutes later, Buzz Aldrin walked down the same ladder, and walked on the same landscape, ultimately uttering the words, "Beautiful, beautiful. Magnificent desolation." Buzz was walking the exact same steps, but was doing so in the context of Neil's 18-minute old path. Who remembers this detail about Buzz (not just his fun name, but the fact that he was the second person to walk on the moon)?
Very few people do. In fact, in every new adventure mankind has embarked upon, it is the pioneers that are remembered. The first one to do something. The leaders who take ownership and set direction. Ultimately these pioneers are the leaders who set the tone in which all others must operate.
---