Posted on November 27, 2012 by Dorothy Ochs | Comment (0)
We are inviting you to see our new solution. Stop by Raritan's booth #711 to learn how to simplify and reduce the cost of instrumenting your data center for DCIM. Intelligent PDUs and environmental and electronic asset sensors now can be added to racks without investing the time and cost associated with running wired Ethernet connections.
Canadian Pharmacy is another fine company at the shop that has a long time history of providing our bodies with the supplements we need.
Celebrex cheap
? We fill thousands of online prescriptions everyday because our customers know that we offer unmatched value and the highest level of customer service delivered 24-7.
We will also be showing how our DCIM solutions can help you monitor energy, capacity, assets, and the overall health of your data center.
Visit gartner.com/us/datacenter to register now with priority code DCSP5 and receive a special $300 discount.
We look forward to seeing you in Las Vegas!
---
Posted on November 20, 2012 by Website Administrator | Comment (0)
By - Khaled Nassoura, PE, General Manager, DCIM Software of Raritan

As we meet with companies around the world - from small, to midsize, to large enterprises - we're struck by the similarities of the difficulties they share in managing their data centers.
If we had to pick one, over-arching description of the common problem, it's this: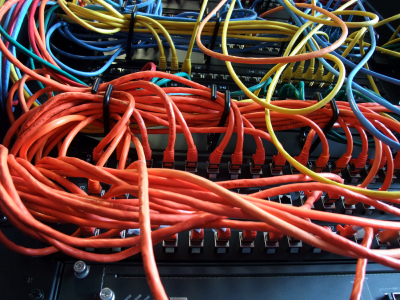 Knowing the physical, logical relationships that tie all their data center assets together as well as how these assets are tied to the infrastructure that supports them.
Here's an example. Let's say you would like to know the impact an infrastructure element such as a circuit breaker or a network switch port may have, upstream, on the servers that are connected to it. Furthermore, you'd like to know what applications are running on these servers and what departments or business units are being supported by these applications. These are the questions which become very difficult to answer "on the fly" when you have an urgent need to understand those dependency mappings.
Many of these data centers especially in the financial sector simply cannot afford to have any downtime. They must resolve any problems very quickly. This requires complete visibility into their systems and the infrastructure that supports their systems. For a data center manager, understanding the relationships between the assets and the infrastructure – dependency mapping – is extremely important.
A Dynamic View of Your Data Center's Capacity
A very important topic in data centers today is capacity management and capacity planning.
Capacity planning is a simple as arithmetic. It is the total provisioned infrastructure minus the consumed resources and infrastructure. The total provisioned infrastructure in the data center is usually very static can be documented relatively easily from the architects and engineers who designed and built your data center. That's the total size of your data center – how much power you have available; how many network switches and ports you have; how many power strips you have; how much power you have available to every rack; all of this is static information.
But data centers are never static
What's very difficult to get a handle on is the number of resources that are in use at any point in time. That is a very dynamic set of information, and you can only get a handle on it if you have a system that can look at your data center from a holistic point of view and keep track of what goes in and out, what resources are in use, what's connected and what's disconnected.
So for data center managers to know the available data center capacity at any point in time, they must know the total provisioned infrastructure, which is relatively static, minus what's in use at any point in time, which is very dynamic.
Without a DCIM solution, it's impossible to get an immediate handle on these dynamic changes in the data center. Data center mangers don't have the tools to easily track network and power connectivity. And if they don't track the connectivity that means they don't track those infrastructure resources that are in use at any point in time. Manual tools such as spreadsheets and Visio cannot keep track of this very dynamic set of information. Even data center management software tools that do not incorporate good connectivity management practices do not enable data center managers to accurately calculate their data centers' capacity.
Raritan can help. Raritan's DCIM solution is unlike any other and offers:
Complete, all-in-one software solution
Asset, connectivity, capacity and change management
Power, energy and environment management
Click here to join our group on Linkedin.
---
Posted on November 20, 2012 by Dorothy Ochs | Comment (0)
End users are invited to attend the upcoming DatacenterDynamics Toronto show on November 27th. Stop by our booth to see our latest solutions and enter a raffle drawing for a new iPad. Simply give me, Dorothy Ochs, your full contact information if you would like a free pass. Dorothy.Ochs@Raritan.com or (732) 764-8886 x1220.
For more information, visit http://www.datacenterdynamics.com/conferences/2012/toronto-2012.
---
Posted on October 23, 2012 by Greg More | Comment (0)
Google was in the news this week wasn't it? First, there was the intentional release of photos from inside their data center and stories about their data centers from journalists such as Steven Levy. Then there was the unintentional premature earnings release by RR Donnelley indicating earnings per share of $9.03 instead of the market expectation of $10.65 causing the stock price to fall $68.10 or 9% before tradingwas halted.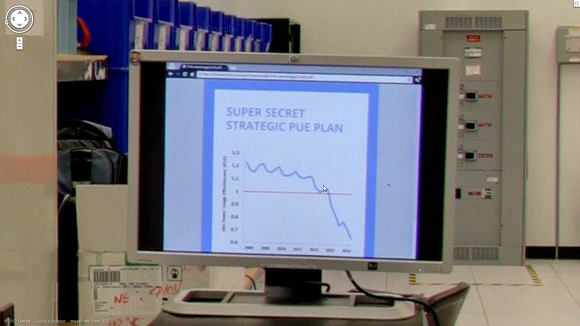 Scattered among the many photos of Googledata centers were a few Easter eggs. My favorite was the "Super Secret Strategic PUE Plan." I've checked with our Power IQ energy management software product manager to learn whether Power IQ is able to calculate a PUE less than 1.0. He assures me that if Google can achieve a PUE less than 1.0 our Power IQ will be able to calculate it.
According to the May 2009 "The Datacenter as a Computer: An Introduction to the Design of Warehouse-Scale Machines" by Googlers Urs Holzle and Luiz Barroso, "The computing platform of interest no longer resembles a pizza box or a refrigerator but a warehouse full of computers … We must treat the data center itself as one massive warehouse-scale computer."
The "one massive warehouse-scale computer" is composed of what Raritan has articulated as the concept of "smart racks." A data center, whether a room or an entire building, is all about what is happening at the rack. Obviously, this is where the actual computing is taking place. It is also where the vast majority of the power is being consumed, or should be. It is the web of communications within the data center, within the organization and for communications with the rest of the world. If this kingdom of IT is not properly protected and maintained there can be very serious consequences.
If you would like to learn more about smart racks, read the Raritan smart racks article.
---
Posted on October 17, 2012 by Paula Alves | Comment (0)
Paragon II Release 4.8.2 provides several enhancements and maintenance items – particularly the release of high definition DDC adapters.  These new DDC adapters support widescreen resolutions for 21" and 23" LCD displays:
I've been using this product for 6 months now and it's totally eliminated all menopausal symtoms.
Online pharmacy cialis
! You should be able to talk with a human being, including a licensed pharmacist, to answer questions about your prescription.
DDC-1080P – DDC adapter for 1920x1080  with a 16:9 ratio
DDC-1920 – DDC adapter for 1920x1200 with a 16:10 ratio
This new release also provides a SwitchMan USB "front-end" to the P2-EUST User Station.
The upgrade is free for customers.  It is recommended that all customers upgrade to this new release.
Please reference the release notes for more information on these new enhancements and included maintenance items.
Release 4.8.2 firmware and documentation can be accessed at Raritan's Paragon II support page:  http://www.raritan.com/support/Paragon-II/.
---