Posted on February 12, 2014 by Website Administrator | Comment (0)

Raritan is proud to announce the Dominion KX III, our new line of next-generation digital KVM switches providing BIOS-level remote access and control of PC's and servers. Containing all of the features of the Dominion KX II, the KX III is the industry's highest performing KVM-over-IP switch.
The KX III's next-generation video processing engine enables high performance, IP access and control of a broad range of applications, from traditional computer applications to the most dynamic broadcast applications that require 1920×1080 video resolution, 24 bit color, digital audio and DVI, HDMI, DisplayPort or VGA video. View streaming 1080p video at 30 frames per second over your LAN!
Building upon the success of the Dominion KX I and II, Raritan is continuing our traditions of technology, innovation and customer support. Like the KX II did in 2007, the KX III sets new standards for performance, reliability, security and innovation.

Read More About the Dominion KX III
---
Posted on February 10, 2014 by Paula Alves | Comment (0)
Data Center operations best practices call for a strategic approach to balancing IT service delivery and cost efficiency. With the growing complexity of data centers from the demand for new service offerings and the sheer amount of physical compute, network, and storage required to provide those services, Data Center Managers are quickly realizing that manual tools, such as excel spreadsheets and Visio diagrams, are no longer an effective way to manage their Data Centers...
---
Posted on February 3, 2014 by Website Administrator | Comment (0)

Managing a data center and therefore Data Center Infrastructure Management (DCIM) is by nature complex. Each vendor has a slightly different twist on the definition and no two data center operations managers are the same – each may require different pieces to best manage their facilities and IT infrastructure. With these sometimes divergent viewpoints no one vendor may exactly match the needs of each organization. Understanding what you want from your DCIM implementation will be key to choosing the right data center tool vendor and having a "successful" deployment.
So how do you begin to discern your choices?
In an analyst report, Gartner stated that "DCIM tools provide data center operations managers with the ability to identify, locate, visualize and manage all physical data center assets, simply provision new equipment and confidently plan capacity for future growth and/or consolidation. These tools can also help control energy costs and increase operational efficiency."
With this definition in mind, vendors have created data center tools based on their core competencies. Some vendors have created tools from the facilities side, while others have created based on their IT experiences. Some may be stronger in monitoring while, others offer more feature rich asset management functionality. No one data center management tool is right for everyone.
So first, you need to understand what you want from a DCIM tool and then which potential vendor meets your requirements. Using the Gartner definition, here are some key areas to consider:
Asset management tools can help identify, locate, visualize and manage all your physical data center assets. Automated DCIM tools capture assets and associated details, store them in a single database repository, and can visually represent the relationships and interdependencies will help to lower operations costs.
Built-in change management workflow procedures help ensure complete and accurate adds, changes and moves.
Automated and import functionality aids in provisioning new data center equipment while providing the reliability of data within your DCIM database
Built-in capacity planning tools and ability to perform what-if analysis provide Operations Managers with information for future growth and data center consolidation with regard to future floor and rack space, power, and cooling expansion, what-if analysis and modeling
Look for DCIM tools that help control energy costs. Regardless if it Is hardware or a software DCIM tool, the tool must be designed to accommodate real-time monitoring and analyze the associated data. Review solutions that incorporate data center management best practices, including threshold settings to ensure energy savings.
Reporting tools can help identify areas for data center improvement and increased operational efficiency. Search for tools that also allow you to view flexible dashboards of information for real-time results.
After you have reviewed the functionality of the data center tool, look at the soft considerations. Areas such as vendor experience, integration and service offerings, and customer focused activities such as support and user groups. Don't be afraid to ask for a demonstration to prove capabilities.
Choosing a data center tool provider is not easy. Remember to identify and focus on what is most important to you as you look to distinguish marketing from reality. To be most successful, it might be best to start small and grow as you need.
Learn more about choosing a DCIM tool in DCIM ebook – 10 Key Considerations or contact us today for a demonstration of Raritan's DCIM.
---
Posted on January 14, 2014 by Michael Bord | Comment (0)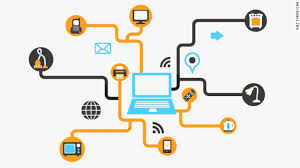 Photo by CNN
By now you're no doubt aware of the hype surrounding the Internet of Things (IoT) following this year's Consumer Electronics Show in Las Vegas. Cisco's CEO has estimated that its cumulative economic impact will be in the neighborhood $19 trillion by the year 2020 (Yes, that is a 19 followed by a dozen zeroes). And as far as the cultural impact, predictions have it falling nothing short of turning what is currently considered science fiction into everyday reality. But what is IoT exactly, and how will it come to affect the data center over the next decade?
Fundamentally, IoT describes the use of sensors in everyday objects like toothbrushes, crockpots, thermostats, tennis rackets, automobiles – quite possibly, literally, everything – to collect and send data wirelessly to a database or warehouse where it will be amassed and digested in unprecedented amounts and rates in order to enhance and automate everyday events. But while most individuals will focus on this new breed of smart objects, the crux of this interconnected network of objects will, in actuality, be the data center.
If you aren't convinced, take a moment to contemplate the number of devices that are currently accessing critical services that are hosted through your data center. Now consider that by the end of this calendar year, there will be a total 25 billion devices connected to the whole of the internet. By 2020, that number is expected to double to 50 billion. And so it should be evident that the size, complexity, and resource demands of the data center will expand beyond anything seen in modern history.
In preparation, data center operators will need to sprint ahead to build and maintain the new data center infrastructure that will serve as the foundation for IoT, or risk missing out on a $19 trillion opportunity. And beyond the risk of missing out on this opportunity, there's also the risk of wastefully over-provisioning the data center. So deploying a data center infrastructure management (DCIM) solution is likely to be the only viable way for operators to keep pace with the demand for additional servers and devices, while ensuring that data center power and resources are utilized efficiently.
Of course it would be easy, if not tempting, to fall into a cycle of over-provisioning to ensure high availability for these new services. But the reality is that over-provisioning would quickly become unsustainable and costly given the rate of growth that is anticipated. Instead, a properly implemented DCIM solution would ensure that: 1) Energy for IT devices and facility cooling is used efficiently; 2) Assets, capacity and change are managed in an automated fashion, and; 3) That costly downtime is reduced or eliminated allowing providers to meet SLAs.
In fact, it may stand to reason that a DCIM solution will for many data centers, be the missing link that makes the IoT sustainable by providing a cost effective and scalable way to support its massive infrastructure. And oddly enough, DCIM itself will serve as a sort of meta-IoT via its ability to collect data from multiple sensors and devices, and create value through efficiency and automation of data center operations. So while the Internet of Things may very well be the industry of tomorrow, its infrastructure is liable to depend on DCIM in order to move from today's hype to tomorrow's reality.
---
Posted on January 10, 2014 by Paula Alves | Comment (0)

NetworkWorld Asia recently awarded Raritan their Readers' Choice Product Excellence Award 2013 for Data Center Capacity Planning and Services. These awards are given to leading vendors for the innovative technologies and solutions they provide to Asia businesses. Awards are presented based on votes from the readers of NetworkWorld Asia magazine, and the Networks Asia, Security Asia and Storage Asia websites.
As the Data Center Capacity Planning and Services winner, Raritan was recognized for its DCIM solution that provides the capability to view Data Center assets from the lowest level in the power chain to the highest level. This visualization provides Data Center Managers with the ability to increase data center efficiency, capacity utilization, and operations workflow to save time and money.
Read more about Raritan's DCIM Capacity Solution at http://www.raritandcim.com/product/capacity-management -
---