Posted on June 13, 2013 by Gento | Comment (1)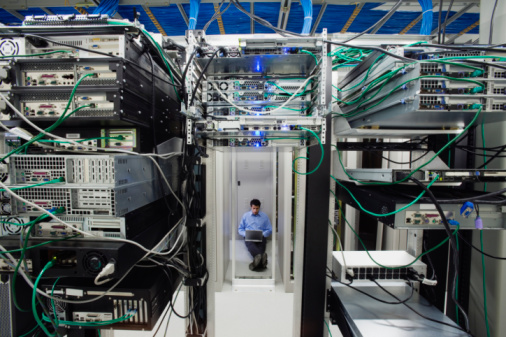 Like most emerging technologies, data center infrastructure management—DCIM—has many entrants, varied approaches, and a confusing proliferation of market definitions. As a result, there is little common understanding of the problems DCIM solves. There is also a substantial gap between customer expectations and solution vendors' promises. In my opinion, this is the key roadblock to the advancement of the DCIM industry.
DCIM can be very complex, often crossing different functional domains. Today's point tools, such as homegrown databases, spreadsheets, and diagramming software—can only take you so far in the direction of asset, capacity and change management.
When sites get larger, work processes get more complex. They quickly become ineffective at helping facility managers make informed decisions about additions, moves, consolidations, and relocations.
If data center operators are to remain competitive in the future, they will have to recognize this problem and allocate resources toward its solution.
A key step is education. Data center operators should clearly understand that DCIM solutions are more than tools or widgets that you simply procure and turn on. Like CRM or ERP deployments, they are process solutions, requiring the alignment of problem s, processes, and people. Successful DCIM deployments often call for fundamental changes in organizational work processes. So companies like Raritan need to educate and provide the tools that help data centers assess their operations and identify the key problems that they want to solve.
I also recommend a phased implementation. Experience tells me that by taking incremental steps, experiencing success and realizing value, customers gain confidence in further deployments.
We at Raritan help customers take a practical path, first starting with addressing the most pressing need in an initial project -learning and extracting value. For example, our DCIM software suite, called dcTrack, helps a typical data center professional answer questions faced everyday:
How many servers do I have and where are they located?
How are they physically connected to the power line and network patch panel?
Can I place these servers in those racks?
As users dig deeper into DCIM's capabilities, they can combine power chain and network connection management with workflow to get answers to more sophisticated questions, such as:
"What is the impact on my power chain?" and "Do I have available power and network connection capacity?"
The answer to these questions is found in Raritan's DCIM solution. It knows exactly which devices are connected from the UPS to the rack outlet. Additionally, implementing a change management function, combined with a ticketing system, can help customers better manage equipment moves, adds, and changes.
With DCIM you can measure the exact capacity of space, power, and cooling—at a building level, room level, or down to the individual port level in a rack — in order to improve operational efficiency and productivity.
Raritan DCIM solutions provide the information data center and facility operators need to solve complex problems and make informed decisions regarding asset, capacity and change management. If data center managers are to remain competitive, Raritan's DCIM solution can certainly help guide them.
Learn more about Raritan DCIM solutions
---
Posted on May 29, 2013 by Gento | Comment (0)
Have you heard about raritanDCIM.com - Raritan's new way to communicate all things DCIM. Come visit and check out:
What's DCIM: Learn about the components to consider when selecting a DCIM provider, the benefits from a DCIM and more importantly, how to get started.
Client Success and Resources: Learn how you can use DCIM to successfully manage your Data Center. Try the ROI calculator, download white papers and read case studies on successful customer deployments.
Services: When thinking about DCIM, don't forget service and training. See a list of key considerations as you plan out your DCIM strategy. Read about our Quick Start, Turnkey, Integration, and Training Services.
If you have a question, chat live with one of our DCIM experts or if you'd rather see it live, schedule a demo and take Raritan's DCIM for a spin and see how it can easily support your DICM initiatives.
Visit raritanDCIM.com and let us know what you think. We look forward to hearing from you.
---
Posted on May 22, 2013 by Gento | Comment (0)
Managing an IT infrastructure is complex, expensive and critical to a company's success. Many IT and lab managers use CommandCenter® Secure Gateway (CC-SG) management solution for secure and consolidated remote IP access from a variety of desktop and mobile clients to KVM and power management solutions, blades, virtualized servers, and serial devices.
IT infrastructure management solutions only work effectively if they evolve along with the IT and computing systems they support. To address recent security issues and decrease vulnerabilities, many IT and lab managers have recently updated their IT and computing systems. To support this evolution and the needs of our customers, Raritan has introduced Release 5.4.
With this latest release, CC-SG provides IT and lab infrastructure support for:
Java 6 and Java 7, to address new Java releases that address multiple Java zero-day security issues and decrease vulnerabilities.
Microsoft RDP Client Proxy mode for support the latest Windows operating systems.
VMware vSphere 5.1, VMware 4.x and 5.0 Remote Consoles for Virtual Media support
Additional APIs for added integration with customer software systems
With CC-SG IT and lab managers can be responsive to changing needs while reducing downtime, increasing security and reducing costs. Upgrade now to continue to be responsive and keep your IT infrastructure running.
To learn more about CC-SG Release 5.4 download our data sheet or take a free test drive.
---
Posted on May 9, 2013 by Gento | Comment (0)
Benchmarking your Data Center
Key Note Speaker: EDI, Ltd.'s Jeremy Gilbertson, CTS, RCDD
Topics Covered:
- Why Most Data Center Projects Fail Before They Begin. The importance of benchmarking and accurate statement of requirements
- State of the Industry – Data Centers: Interesting, unique goings-on in the data center industry
Jeremy Gilbertson, CTS, RCDD is Vice President of EDI, Ltd.'s Data Center Practice and is responsible for overall strategic direction, management, and project delivery for the practice. Jeremy's expertise involves helping enterprise, third-party provider, healthcare, and higher-education clients understand the current state of their data centers and develop phased strategies that address business requirements, risk profile, and budget.
Join us for an afternoon of leading edge Data Center discussions and real world case studies ranging from design through intelligent infrastructure management followed by a tasting of best brews and appetizers.
REGISTER HERE
Space is limited.
When:Thursday, May 23rd from 12:00pm-5:00pm
Where: Gordon Biersch Brewery - Buckhead location
3242 Peachtree Road N Atlanta GA 30305
Agenda
Case Studies on Tap:
- Raritan: Deploying High Power at the Rack
- Fluke Networks: Ensuring Performance of Critical, High Bandwidth Fiber Links
- Global Power Technologies: Power Monitoring Systems Enhance the Commissioning Process for a Fully Integrated Facility
- Vigilent Corporation: Too Cool - Changing the Game in Data Center Cooling
About EDI, Ltd. EDI, Ltd. is a leading healthcare IT consulting and design firm specializing in medical communication technologies, information systems infrastructure, security, audio-visual systems, and data center.
Attendees will be entered into a drawing for a Kindle Fire!
REGISTER HERE
Space is limited.
---
Posted on May 8, 2013 by Gento | Comment (0)
Accuracy for rack power distribution units (PDU to some, CDU to others) is gaining in importance as energy costs and energy cost management are getting increasing attention. In today's episode, The Data Center Detectives discuss proper kWh measurement: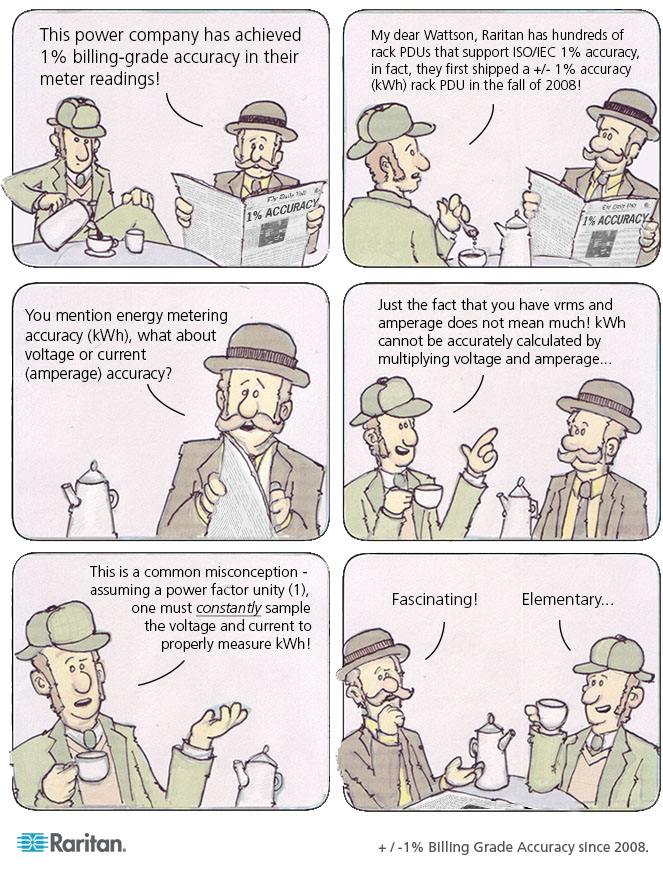 Raritan pioneered ISO/IEC 1% accuracy for energy in rack PDU at the outlet level — with first product shipments in the summer of 2008. Today, Raritan has more than 600 models that meet this standard, including custom engineered units.
Don't miss the next epsiode of The Data Center Detectives — subscribe to our blog.
---